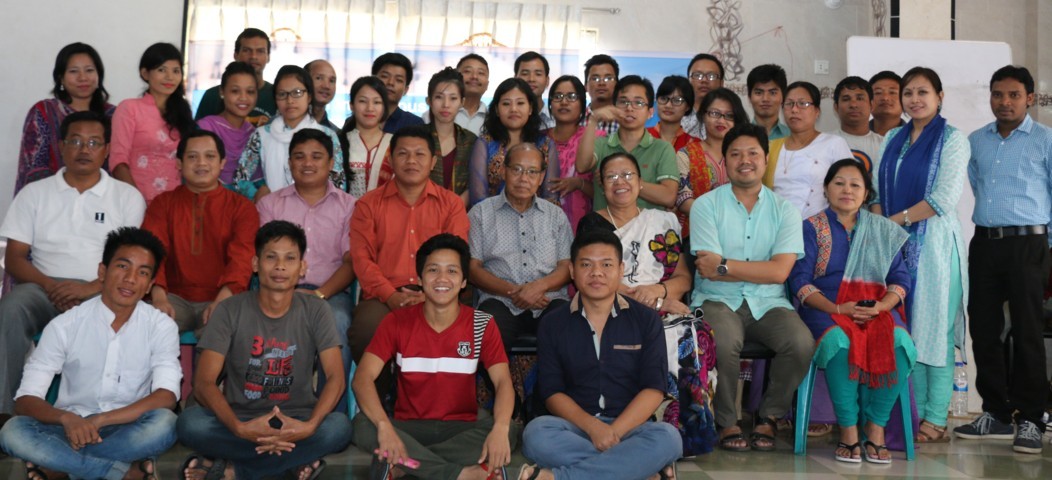 Workshop on UPR and Indigenous Peoples Held in Dhaka
Coalition of Indigenous Peoples Organizations and Kapaeeng Foundation jointly organized a national workshop titled "National Workshop: Promoting UPR Recommendation on Indigenous Peoples" from 6-7 December 2015 at CBCB Conference Hall in Dhaka. Indigenous rights defenders from all the regions of the country participated in the workshop called for concerted efforts of indigenous peoples organizations, civil society organizations and indigenous-friendly organizations and individuals for realizing the rights of indigenous peoples rights in the country.
The workshop brought together 40 indigenous rights defenders from over 20 indigenous peoples' organizations based in different regions of the country namely North Bengal, Greater Sylhet, Greater Mymensingh, the Chittagong Hill Tracts and coastal region. The workshop was aimed at creating a room for exchanging experiences, good practices and strategies indigenous human rights defenders gathered while working for the protection and promotion of indigenous peoples rights, with special focus on UPR recommendations on Bangladesh relating to indigenous peoples.
The inaugural session of the workshop held in the morning on 6 December was presided over by the Chairperson of Kapaeeng Foundation, also President of Jatiya Adivasi Parishad, Mr. Rabindranath Soren. Mr. Ushatan Talukder MP, member of Parliamentary Caucus on Indigenous Affairs; Sanjeeb Drong, Secretary General of Bangladesh Indigenous Peoples Forum (BIPF); Sille Stidsen, independent consultant on indigenous peoples issues; Alexious Chicham, National Project Coordinator of International Labour Organization; Pallab Chakma, Executive Director of Kapaeeng Foundation and Chaitali Tripura, Joint-convener of Bangladesh Indigenous Women's Network also addressed the session.
Mr. Ushatan Talukder MP said it is important to have clear understanding about Universal Periodic Review and create mass awareness about the human rights mechanism at different levels including the policy-making level. Focusing on empowerment of indigenous peoples, he mentioned indigenous peoples have no other alternative but empowering themselves. Hence indigenous peoples should try to be a part of the power structure of the state apparatus – from local government to the top level.
BIPF General Secretary Mr. Sanjeeb Drong said despite all the odds indigenous peoples are being encountered, they have to have hope and continue to fight for their rights. In this regard, youth have to play a significant role – they should to think and act more for indigenous peoples.
Independent expert Sille Stidsen said, indigenous peoples in Bangladesh are not alone, they have friends everywhere, and indigenous peoples across the world are facing similar issues. Exemplifying Australia and Denmark, she mentioned that although these countries are top in the human rights rankings, their indigenous peoples still face discrimination. She provided with the example of how aboriginal people of Australia are facing discrimination in the areas such as education, health facilities, mortality rate and incarceration rate in comparison to their non-indigenous counterparts.
Following inaugural session, there was apresentation on UPR mechanism and indigenous peoples, conducted by Subhagya Mangal Chakma, Manager of Action Aid Bangladesh, and two rounds of workshops related to promotion of UPR recommendations related to indigenous peoples in Bangladesh. The first round of workshop focused on an analysis of the human rights situation of indigenous peoples in Bangladesh. This round consisted of four workshops covering following issues: land and natural resources, violence against indigenous women and girls, development, business and indigenous peoples rights and Chittagong Hill Tracts Accord 1997.
And the second round of workshops was on formulation of strategies for next two years in order for strengthening ongoing struggle of indigenous peoples organizations and promotion of the UPR recommendations related to indigenous peoples. The joint strategies formulated were targeting different stakeholders, including indigenous peoples organizations, traditional institutions, civil society organizations, different national-international bodies, national human rights institution and policy makers.
Finally, the situation analyzed, strategies formulated and activities to be implemented over the next two years by the members of the Coalition of Indigenous Peoples' Organizations on UPR and other indigenous peoples were adopted in a plenary session. In addition, a decision was taken to form a human chain across the country by the indigenous peoples' orgnaisations demanding land commission for indigenous peoples of plain land and implementation of CHT Accord on 9 January 2015.