Probe attack on Chakma Palli in Teknaf, demand educationalists, politicians and indigenous leaders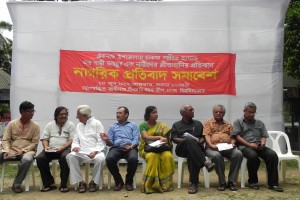 On 18 June 2012 at a citizen's protest meeting, Educationalists, politicians and indigenous community leaders organised a demonstration demanding proper investigation of a recent attack on indigenous people at Hoako Chakma Palli under Teknaf in Cox's Bazar. They urged people to compel the government to ensure safety and equal rights for the indigenous peoples. They also demanded withdrawal of the "false case" filed against the Palli's residents, immediate release of the arrested residents and withdrawal of the "controversial" policemen from Hoako Police Outpost to restore the confidence of the residents on law enforcers.
The demonstration was held at the base of Shoparjito Swadhinata of Teacher-Student Centre (TSC) at Dhaka University by the citizen's rights group in facilitation of Kapaeeng Foundation with Bangladesh Adivasi Forum General Secretary Sanjeeb Drong in the chair.
They held prime minister Sheikh Hasina and foreign minister Dipu Moni responsible for continuous repressions on the country's minorities due to their 'callousness' in taking punitive action against the tormentors of the minorities.
The speakers said one, Abdul Haque, and his henchmen, assisted by law enforcers, attacked the Palli in Sukna Amtali village on May 29 and 30, assaulted two indigenous teenage girls and looted some three houses over a land dispute.
They allegedly vandalised their houses, looted valuables, beat people—both male and female—and even raped a teenager, political science teacher of Dhaka University Shantanu Majumder, said while addressing the rally.
The rights activists also raised questions about the sincerity of the home ministry to monitor such repressive attacks both on minorities and journalists.
Gono Oikkya committee convener Pankaj Bhattacharya asked the government to ensure 'exemplary' punishment of the perpetrators of the incidents and the law enforcers involved with it.
Parbatya Chattagram Jana Sanghati Samity organising secretary Shaktipada Tripura called upon people to raise their voice against such repressive incidents. He also added that the frequency of incidents of repression against the indigenous community has been alarmingly growing.
A delegation comprising political leaders, teachers, journalists and human rights workers led by Pankaj Bhattachrya visited the spot on June 7, 2012 and placed a five-point recommendation, including arrest of the perpetrators and compensation to the victims, they said.
Veteran politician Pankaj Bhattacharya, who led the delegation, Dhaka University teachers Prof Mesbah Kamal, Prof HKS Arefin, Robaet Ferdous and Shantanu Majumder, Institute for Environment and Development Executive Director Numan Ahmed Khan, advocacy director of Bangladesh Mahila Parishad Ms. Jona Goswami and Wasir Rahman Tonmoy of Manusher Jonno Foundation also spoke at the rally. Vice chairperson of Kapaeeng Foundation Dipayan Khisa conducted the protest meeting.
Please visit following links for media news:
http://www.thedailystar.net/newDesign/news-details.php?nid=238884
http://www.newagebd.com/detail.php?date=2012-06-19&nid=14275
http://www.dailykalerkantho.com/?view=details&type=gold&data=Software&pub_no=918&cat_id=1&menu_id=43&news_type_id=1&index=5