Women rights groups demand judicial inquiry to the violence against indigenous women including killing, rape and abduction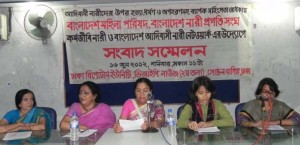 Women rights groups demanded judicial inquiry to the alarming violence against indigenous women including killing, rape and abduction across the country and immediate action against such incidents.
This demand was rasied in a joint press conference organised by Bangladesh Indigenous Women Network, Bangladesh Mahila Parishad, Bangladesh Nari Progati Sangha and Karmajibi Nari in facilitation of Kapaeeng Foundation on 16 June 2012 at 11.00 am at Reporters' Unity in Dhaka.
The press conference was attended by Rokeya Rofique Beby of Karmajibi Nari, Humaira Khatun of Bangladesh Mahil Parishad, Shahnaz Sumi of Bangladesh Nari Progati Sangha, Minu Mrong and Nishi Dewan of Bangladesh Indigenous Women Network, Lina Jesmine Lushai of Kapaeeng Foundation and Chanchana Chakma of Hill Women's Federation. Convenor of Bangladesh Indigenous Women Network Minu Mrong read out the written statement on recent violence against indigenous women.
In the written statement, women rights group said that murder, rape and violence against indigenous women and children in various parts of the country have been increasing at an alarming rate, particularly in the Chittagong Hill Tracts (CHT). They said that at least 19 incidents on violence against indigenous women in 2012 have been documented. Of them, 2 indigenous girls whose aged 7 and 11 years were brutally killed after rape while 10 indigenous women were raped. Besides, 2 indigenous girls were abducted. Of them, 19 incidents were committed by Bengali miscreants and 1incident by an indigenous man in plain land.
Rights organisations said that the figure only includes the reported incidents of rape, murder and abduction, adding that the actual number of such incidents of violence against indigenous women is much more. Several incidents have not come in public due to further harassment from influential group, local administration and law-enforcing forces or family and social barriers in the society. Even, many victims and families have been too afraid to file a case in fear.
Violence incidents against indigenous women were committed by the Bengali miscreants with the intension to occupy land of indigenous peoples. In case of CHT, the incidents continue due to the non-implementation of the CHT Accord. Hence indigenous women in plain and CHT are passing their life with fears and insecurity.
In response to the questions of the journalist, executive director of Karmajibi Nari Rakeya Rofique Baby said that the biggest concern in rape and other violence against indigenous women is the lack of access to justice and absolute impunity that perpetrators enjoy. The State failed to provide security of all women of the country, she added.
Deputy director of Bangladesh Nari Progati Sangha Shahnaz Sumi said that local influential and land grabbers remained involved in rape, murder or support the accused, which prevented justice. She said no example of punishment against such violence, the impunity enjoyed so far, was the main reason which emboldened the miscreants to commit such abhorrent crimes across the country.
Member-secretary of Bangladesh Indigenous Women Network Nishi Dewan said justice for abduction of Kalpana Chakma is yet to be achieved. Due to fail to bring culprit into the justice, violence against indigenous women is continuing. She said they protested almost every incident and submit memorandum to the prime minister, demanding trial but did not get proper responses. Implementation of the CHT Accord of 1997 could lessen the violence against indigenous women in the CHT.
In the press conference, the women's rights organisations put following demands to the government of Bangladesh:
(1)   To form a judicial inquiry commission to investigate the recent incidents of repression indigenous women including killing after rape of 7 year old Sagari Oraon and 11 year old grade IV girl Sujata Chakma;
(2)   To provide adequate compensation to affected and victimised indigenous women and their families;
(3)   To probe all human rights violation on indigenous women by the National Human Rights Commission;
(4)   To recognise collective and individual land rights of indigenous peoples in accordance with international standards and customs and usages of indigenous peoples;
(5)   To issue special instruction to the law-enforcing agencies to provide security of indigenous women;
(6)   To declare roadmap with timeframe for proper and speedy implementation of CHT Accord.
For media news, please visit following links:
http://www.thedailystar.net/newDesign/news-details.php?nid=238609
http://www.newagebd.com/detail.php?date=2012-06-17&nid=14052
http://www.daily-sun.com/details_Conduct-judicial-inquiry-to-prevent-ethnic-cleansing_177_1_10_1_5.html
http://www.theindependentbd.com/paper-edition/metropolitan/dhaka/115887-punishment-for-perpetrators-of-violence-against-indigenous-women-demanded.html
http://www.prothom-alo.com/detail/date/2012-06-17/news/266315
http://www.bangladeshnews24.com/ittefaq/2012/06/17/53073.htm
http://www.jjdin.com/?view=details&type=single&pub_no=160&cat_id=1&menu_id=38&news_type_id=1&index=6