Obaidul Quader MP pledged to solve the problem of Sahebganj-Bagda Farm permanently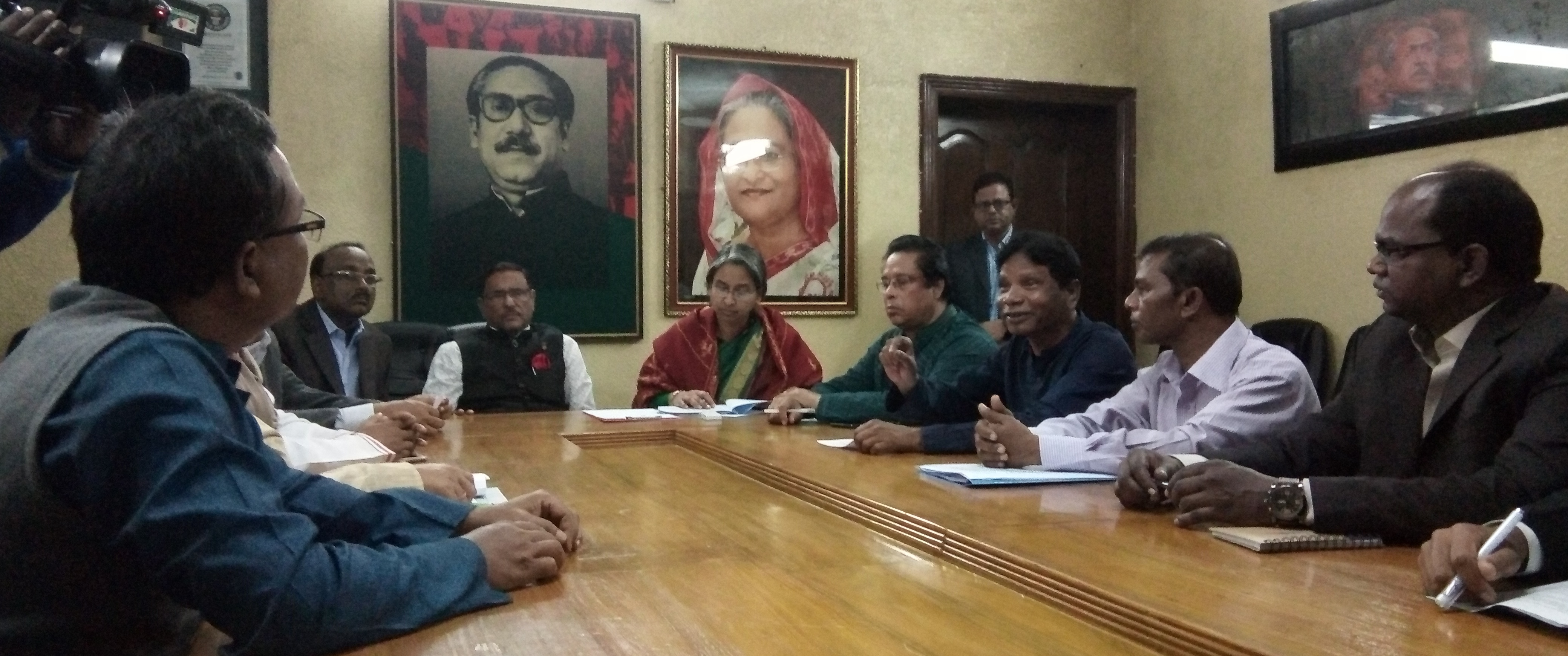 Indigenous representatives refused to relocate
KF Report:Indigenous leaders turned down the proposal to move to a new place and expressed their strong position to remain stuck on their demand to get back the ancestral lands of indigenous and marginalized Bengali farmers of Sahebganj-Bagda Farm area. This strong stand of indigenous peoples was expressed in a meeting with a delegation of government representatives led by Obaidul Quader MP, Minister, Ministry of Road, Transport and bridges and General Secretary of Awami League (AL) held on 23 December 2016 at the political office of AL in Dhanmondi, Dhaka.
During the meeting, a seven member delegation of indigenous leaders placed a 10-point charter of demands in writing to top AL leader Obaidul Quader and updated him about the current situation of the evicted Santal and Bengali marginalized farmers of Sahebganj-Bagda Farm area. Obaidul Quader MP told the indigenous representatives that the government will take necessary action to resolve the issue permanently.
The indigenous delegation was composed of Rabindranath Soren, President, Jatiya Adivasi Parishad (JAP); Philimon Baskey, Vice President, Sahebganj-Bagda Farm Land Rescue Action Committee (SLRAC); Shajahan Ali, General Secretary, SLRAC; Ganesh Murmu, Member, SLRAC; Dr. Lawrence Besra; Advocate Provat Tudu and Manik Soren, Information and Research Secretary, JAP. And alongside Obaidul Quader, other AL leaders present in the meeting are Dr. Dipu Moni, Joint General Secretary, AL; Khalid Mahmud Chowdhury, Organizing Secretary, AL;Sujit Roy Nandi,Relief and Social Welfare Secretary, AL and Abdus Sobhan Golap, Office Secretary, AL et al.
Obaidul Quader said, Prime Minister Sheikh Hasina has given directives to build houses for indigenous peoples in Sahebganj. In accordance with the directives, we have found a nearby place of around 10-14 acres where we can rehabilitate the people who have been evicted on 6 November 2016. He also mentioned that if you can rely on Sheikh Hasina, you can leave this matter to her. She will take care of it.
Indigenous leaders, however, did not agree with the proposal and expressed that they do not agree to move elsewhere from their ancestral lands. Rabindranath Soren, President of JAP said, indigenous peoples are not used to with living in cluster village where the government might offer them to relocate. They are used to with living in free places and they need some frees space around their homes. This is an inseparable part of their culture. He also added that indigenous peoples had their cremation ground and graveyard in this land where their ancestors are resting in peace. They have their temples and shrines too in this piece of land.
Indigenous representatives expressed that they want rely on Sheikh Hasina's government, but their previous experiences of dealing with the government are not letting them to do so. They referred to the manifestos of AL in 2008 and 2014 elections where they pledged to take necessary action for formation of an independent land commission for plains indigenous peoples. But this pledge is yet to be materialized.
Finally, Mr. Obaidul Quader promised to make a visit to the Santal and Bengali villages of Bagda Farm are and would like to have dialogue on the issue again. He also spoke to the Deputy Inspector General (DIG) of police and Deputy Commissioner (DC) of Gaibandha district to look after the matter seriously and provide security and relief to the affected indigenous and Bengali farmers of Bagda Farm while in the meeting.
The10-point charter of demands handed over by indigenous delegation is given as follows:
Give back ancestral lands with legal title according to the contract of 1962;
Withdraw all cases filed against Santal and marginalized Bengali farmersfollowing the incident of 6 November 2016;
Provide compensation to indigenous peoples for their standing crops and fish in the ponds they had during the eviction drive on 6, November 2016;
Provide compensation to the families of the dead, injured and other victims;
Reconstruct all of houses, temples and schools which were torched during the eviction drive;
Remove the barbed wire installed around the Santal villages;
Take stern legal actions against the masterminds of the attack of 6 November 2016;
Remove of the Upazila Nirbahi Officer (UNO) and officer-in-charge (OC) of Gobindaganj Police Station;
Punish the police personnel who "set fire" on the houses of indigenous peoples;
Investigate the corruption of the officials of Rangpur Sugar Mills who leased out the mills' land to others breaching the contract of 1962.
Newspaper Links: