22 March 2017: Rehearing on final investigation report of Kalpana Chakma abduction case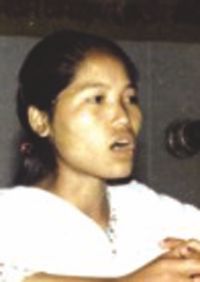 The hearing of the no-confidence petition in Kalpana Chakma abduction case was held on 10 January 2016 at Rangamati District Court. Again the court has set the next hearing date on 22 March 2017 and also expanded its trial for detail investigation of the report.
The investigation officer of the case had filed the report on 7 September 2016, without identifying any abductors in this connection.
Meanwhile, different rights organizations women's organizations, student's organizations in the hill district demanded the arrest and exemplary punishment of the culprits who abducted Kalpana Chakma. Although twenty years have passed since the abduction, the investigation officer of the case failed to find any evidence and identify the kidnappers of Kalpana Chakma.
It's to be mention that, On June 11, 1996, Kalpana Chakma, organizing secretary of hill women's federation, an organization of indigenous women in the Chittagong Hill Tracts, was abducted from her residence by the military personnel on the lead of Lt Ferdous in Baghaichari Upazila of Rangamati.