Two Day Long March of JAP concludes in Rajshahi: JAP reiterates its demand for Land Commission for indigenous peoples of plain lands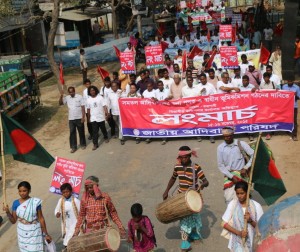 Two day 'Long March' programme of Jatiya Adivasi Parishad (JAP), the largest platform of indigenous peoples in the North Bengal region, concluded in Rajshahi on 16 November 2015. With the one point demand for forming an independent and separate land commission for indigenous peoples living in the plain lands of Bangladesh, the long march of several hundred adivasis from different districts of the North Bengal marched from Nachole under Chapainawabganj district for over sixty kilometers.
The two day Long March started from Nachole bus stand under Nachole municipality area at 12:30 pm on 15 November 2015. Pankaj Bhattacharya, president of Oikya Nap, attended there as chief guest while Rabindranath Soren, president of JAP; Anil Marandi, presidium member of JAP; Bimol Chandra Rajoar, organising secretary of JAP; Andrew Sholomar, finance secretary of Bangladesh Indigenous Peoples Forum; Joynal Abedin Mukul, coordinator of Bangladesh Somajtantrik Dol, Naogaon district; Basanti Murmu, Chairperson of Adivasi Nari Parishad; Bichitra Tirki, President of JAP, Chapainawabgonj district unit; Bablu Chakma, representative of Kapaeeng Foundation; Horendranath Singh, President of Jubo Parishad; Sumila Tudu, Bidhan Chandra Singh,and leaders of different political parties and civil society organisations spoke, among others.
The long march proceeded to Rajshahi through Amnura of Sadar upazila in Chapainawabganj and Godagariupazila in Rajshahi district and halted for the night at Rajabarihat in Rajshahi district. The marchers staged a number of street meetings at different points while they were on their way to and in front of the Rajshahi divisional commissioner's office and submitted a memorandum to the Prime Minister through the divisional commissioner. The leaders including Pankaj Bhattacharya and Rabindranath Soren spoke at the gathering in front of the divisional commissioner's office.
Speakers alleged that indigenous peoples in the plains are being victim to repression, killing, rape and eviction from their ancestral lands – cultivable lands, houses, ponds, graveyards, cremation grounds and temple lands often in collaboration with a section of unscrupulous land officials.
With the demand to get them rid off ongoing oppression connected land being faced by them, for long, indigenous peoples in the plains, particularly those from North Bengal, have placed a nine-point charter of demands to the government in several occasions. But this massive long march was targeted to place one demand only – their long-standing demand for formation of an independent and separate land commission for the indigenous peoples of the plains to restitute their dispossessed land.