Land of indigenous Rakhines being grabbed by two influential brothers in Kuakata, Patuakhali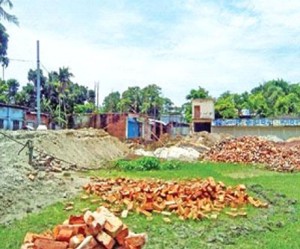 Recently two leaders of major political parties in the country, namely Monir Ahmed Bhuiyan, General Secretary of rulling Awami League of Kuakata municipality unit and his brother Babul Bhuiyan, Joint-Convener of BNP of Kuakata municipality unit, are allegedly constructing a shopping complex on a land belonging to indigenous Rakhine community at vibrant tourist destination Kuakata under Kalapara upazila in Patuakhali.
It is learnt that in1999, the then Prime Minister Sheikh Hasina donated 0.8 acre (80 decimals) land for improving the livelihoods of underprivileged Rakhine community in Kuakata. Later the district administration authority built 14 tin-roof concrete shops on the south of the land turning it into Rakhine Women's Market and a big concrete platform on the west. Most of the remaining land was open and where different cultural programmes were organised. Each year, thousands of tourists gather to attendvarious programmes in the field.
The two influential brothers had long been trying to grab a part from the east side of the market. They began to grab market place since 2009. Though it was informed to Kalapara Upazila Nirbahi Officer (UNO) at that time but no effective action was taken. Meanwhile, over past six years, the alleged land grabbers became more and more desperate to grab the land. Now they are ignoring the government directives of prohibition of building any construction in the place. Earlier this month, they started building Bhuiyan Market on around five decimals of the market land. The construction is going on continuously day and night. No one dared to stand against the land grabbers. Rakhine people are suffering from insecurity. Hence, urgent intervention of the local administration is needed to stop land grabbing.Deputy Commissioner Amitav Sarkar said that he has already given direction to Kuakata municipality and Kalapara UNO to take necessary steps in this regard. According to Deputy Commissioner's Office, to preserve the natural beauty of Kuakata, all unplanned construction must remain closed until the DAP (Detailed Area Plan) of the Department of Urban Development is completed.
Monir Ahmed claimed that the land was their property and they took permission of Kuakata Municipality. Municipal administrator and UNO Md. Jahangir Hossain, however, said none could construct anything without the permission of Kuakata Development Authority headed by the deputy commissioner, and Monir did not take any permission. The Rakhine people filed a complain with the district administration on 7 July 2015.