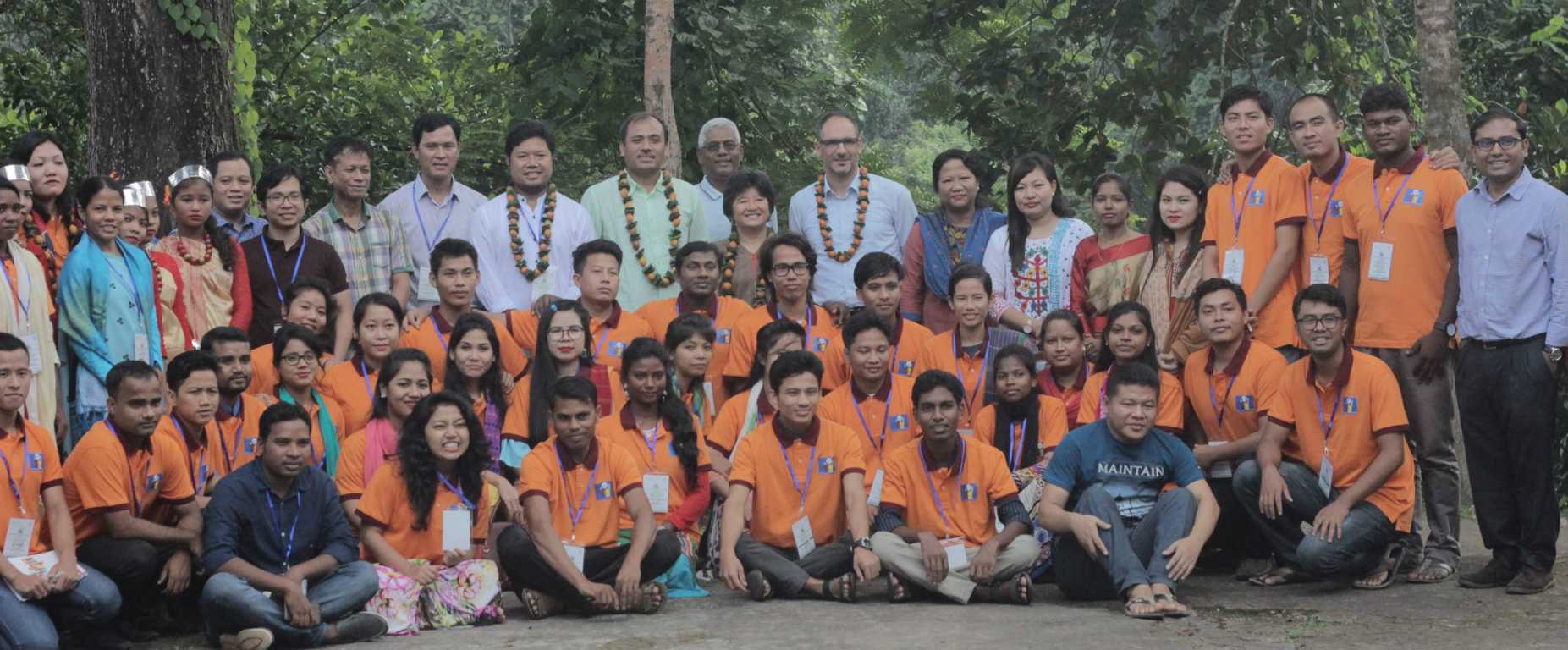 The Indigenous Youth Conference 2017 successfully ended in Komolganj, Moulvibazar with strengthened solidarity and enhanced capacities among a bunch of rising indigenous youth leaders of Bangladesh. The youth leaders present vowed to continue their communications and networks in order to work for a better future of indigenous peoples in Bangladesh.
With the motto "Empowered Youth, Enlightened Future" the three-day-long Indigenous Youth Conference 2017 was organized by Kapaeeng Foundation on 16-18 October 2017 with support from the Embassy of Switzerland in Bangladesh at Heed Bangladesh Training Centre in Komolganj, Moulvibazar. Over 35 indigenous youth leaders from different regions of the country, representing about 20 indigenous communities and over 15 organizations, were brought together in the conference. The main objective of the conference was to strengthen their capacities in relation to human rights, leadership and globally emerging issues such as SDGs, and to strengthen the solidarity and networks among them.
The youth conference was composed of interactive technical sessions on basics of human rights, leadership, human rights instruments with specific focus on indigenous peoples, sustainable development goals and indigenous youths, role of indigenous youths in addressing human rights of indigenous peoples and human rights documentation.
Aside from these interactive sessions there was a session on local immersion. As a part of local immersion, the participants made a visit to Magurchara (Khasi) Punji and enjoyed discussions of local traditional leaders about the issues, concerns and struggles of local Khasi and Tripura people. The participants also snatched this opportunity to broaden their horizon of knowledge and wisdom in the Q&A session that followed.
As parts of the conference, the youth leaders also took part in a demo TV talk show, a demo press conference and a demo parliamentary debate on issues affecting indigenous peoples and youth leadership of the country. Moreover, the youth conference incorporated an elder-youth dialogue where the indigenous youths had an opportunity to learn from and interact with Mr. Rabindranath Soren, a veteran indigenous leader, the president of Jatiya Adivasi Parishad and Chairperson of Kapaeeng Foundation.
Finally, the indigenous leaders present in the Indigenous Youth Conference 2017 discussed about possibilities for working together and made strong commitments for staying connected in order to work for addressing ongoing oppression and repression facing indigenous peoples across the country.