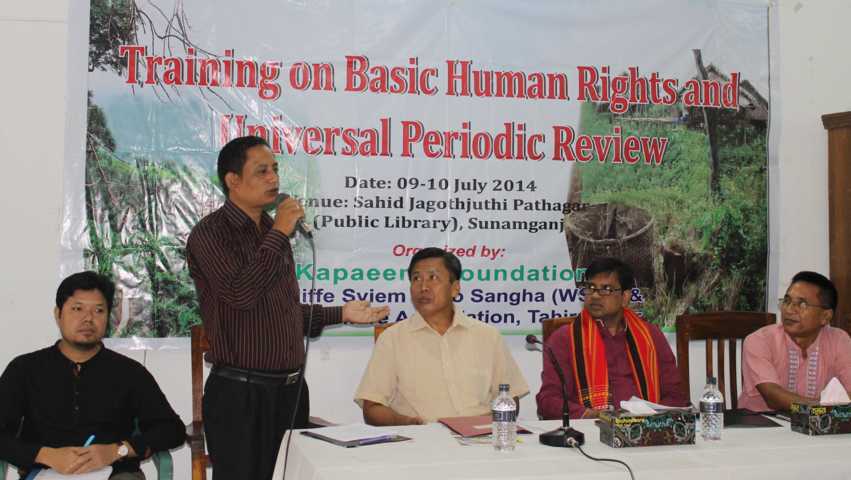 On 9-10 July 2014, Kapaeeng Foundation (KF), along with Wicklife Syiem Jubo Sangha and Tribal Welfare Association,organized a two day long "Training on Basic Human Rights and Universal Periodic Review" at Jagot Jyoti Pathagar in Sunamganj town.The training was organized to build awareness and enhance the capabilities on basic human rights. A total of 21 indigenous people with diverse working background, belonging to Banai, Garo, Hajong, Monipuri and Khasi indigenous groups attended this training programme.
On 9 July 2014 at 9:00 am,the training programme started with an inaugural session. In the opening session Mr. Peer Fazlur Rahman Misbah, Member of Parliament of Sunamganj-1 constituency delivered speech as chief guest while Mangal Kumar Chakma, advisor of Kapaeeng Foundation presided over the session. Among others, Ms. Itimon Solmar, member of Wicklife Syiem Jubo Sangha;Mr. Tarini Azim of Tribal Welfare Association; Mr. Gouranga Patra of Bangladesh Adivasi Forum, Sylhetand Mr. Andrew Solomar, President of Wicklife Syiem Jubo Sangha addressed in the session.
In his speech Mr. Misbah MP said, the indigenous peoples also parts and parcel of this country. They also fought with the mainstream people against the military of Pakistan during the Liberation war in 1971. That is why, he hopes, interms of enjoyment of citizen rights – indigenous people should get equal treatment as a Bengali do as a citizen of Bangladesh. He assured that from his position in the parliament he would raise the issues of indigenous peoples. He also promised that he would take necessary step to establish an indigenous cultural institutein Sunangonj district.
Mr. Gouranga Patra, President of the Bangladesh Indigenous Peoples Forum, Sylhet said that, indigenous peoples have rights to maintain and practice their unique culture. They all should work together to save diverse cultureof indigenous peoplesand to resolve the problems that they faced. He also added, now a days indigenous peoples' rights are being violated in many ways. In many cases they do not get justice. From that point of view, he expressed that this training would enable participants about the issues of human rights violation and the ways of seeking proper justice.
Mr. Tarini Azim, formal president of the Tribal Welfare Association, Tahirpur branch, in his speech thanked the Kapaeeng Foundation and other organizers for organizing this training in Sunamgonj. He also hoped the participants will be benefited from this training – by knowing about basic human rights and UPR mechanism.
Mr. Andrew Solomal, President of the Wicklife Syiem Jubo Sangha and also treasurer of Bangladesh Indigenous Peoples Forum, highlighted some of the issues that the local indigenous people encountered in their region. He also shared their experiences on environmental issues – specially land slid of Meghalaya Hills and how it destroy the paddy field of Bangladeshis including land belong to Khasi, Garo and Hajong communities. He requested the chief guest to help the land slid victims to resolve this problem.
Kapaeeng Foundation's executive director Mr.Pallab Chakma moderated the session while KF adviser Mr. Mangal Kumar Chakma presided over the program. Earlier, Mr. Pallab Chakma wellcomed all the participants to the training and explained the objectives of the training program.
Working sessions of the training
Mr. Mangal Kumar Chakma, adviser of KF conducted the first session of the formal training on basic understanding of human rights. In his presentation he also explored definition,concept, history, and principles of human rights.Further he has given an overview on human rights, civil and political rights and economic, social and cultural rights like UDHR,ICCPR,ICESCR,UNDRIP etc.  Mr. Mangal Kumar Chakma also conducted a session on overall situation of indigenous peoples in Bangladesh, where he discussed land related problems, gross human rights violation on IPs, violence against indigenous women and girls, and other issues related to economic, social and cultural discrimination.
In his presentation on UPR monitoring mechanism and other UN mechanisms related to indigenous peoples, Mr. Pallab Chakma explained about UPR monitoring mechanism along with participation of Bangladesh government. He also discussed about UPR recommendations and reality in practice. He highlighted possible ways of advocacy for the implementation of UPR recommendation in our country. He also discussed other UN mechanisms and procedures on how to communicate with Special Rapporteurs on mandate holders and how to submit shadow reports to the treaty bodies.
In other sessions, Hiran Mitra Chakma, Manager of KF covered a session on documentation and report writing on human rights violation. Moreover, Advocate Rabiul Lais Rokes and Advocate Dr. Khayrul Kabir, president and general secretary of Sunamgonj District Bar Association respectively have jointly conducted a session on violence against indigenous women and access to justice.
In all sessions the participants have taken part actively. They have also shared their experiences regarding the violation of human rights. It was found that most of their cases are related to land problem. Like other parts of the country they also face illegal land grabbing, forceful eviction from their ancestral land etc. A significant number of cases are also related to violence against indigenous women and girls including abduction, rape, physical and mental harassment etc. The community representatives in the training also informed that the local administration, police are not favorable to the IPs. Most of the times, when asked, they did not get any support from these entities of the government.
At the end of the training there was a part on evaluation and preparation of action plan. This part of the training was facilitated by Mr. Mangal Kumar Chakma. All the participants gave their remarks on the training where they mentioned that the training introduced them with various interesting and critical issues in relation to basics of human rights, human rights situation of indigenous peoples in Bangladesh, and documentation. They evaluated the contents of the training and the way they were delivered very positively. Their evaluation was that the training was for a short period of time –so, the duration of the training should be increased. Also, the participants requested to organize similar training in upazila level in future.
Action Plan
With the help of KF members, the participants adopted an action plan, which include –
Forming anIndigenous Peoples Human Rights Defenders Network (IPHRDN) in Sunamgonj.
Collecting and preparing HR violation report, and sending it to Kapaeeng Foundation for further action.
Submitting memorandum for implementation of UPR recommendation by HRDN-Sunamgonj.
Arrange protest rally, human chain and press conference against human rights violation.
Rising fund for IPHRDN-Sunamgonj.
Publishing a booklet focusing the issue of cross-border (land slid).
Preparing a list of victims by Vested Property Act
Preparing report on recent incident – beating up anadivasi driver by local BGB members
Community visit and consultation
On 10-11 July 2014, the members of Kapaeeng Foundation along with some of the participants of the training have taken part in a community integration programme at Tahirpur upazila under Sunamgonj district. On 10 July on the way to Rajai under Taherpur upazila, they visited Kaitkona village of indigenous Hajong community. There are two Hajong villages, three Garo villages and two Monipuri villages in Dhanpur union and Sulukabad union under Taherpru upazila comprising around 83 families.Most of indigenous villagers of these villages are landless and deprived of healthcare, sanitation and education.
On 11 July early in the morning the Kapaeeng team visited land slid affected area at Rajai under Taherpur upazila. It is mentionable that unplanned coal extraction in Meghalaya state of India bordering to Bangladesh leads to huge soil erosion that affects land of indigenous and Bengali people at Teherpur upazila in Sunamganj district. Huge lands belonging indigenous peoples and mainstream Bengali people abandoned their land from cultivation. It should be settled between the government of Bangladesh and India as trans-boundary issue.
In Rajai area, they have visited Garo, Hajong and Khasi communities. Later, they attended to a community consultation with indigenous elders, youths and women held at the compound of Andrew Solomar's house.Around 35 people attended the consultation. Among others, Sului Sangma of Rajai village, Bandi Kumar Hajong og Rajai Hajong Para, Tansen Sangma, Bishendra Riching of Bargum village, Upendra Nokrek, Pijush Rema, Andrew Solomar shared their situation and experiences during the consultation. They said that they are deprived of basic needs, such as, education, employment, health care and sanitation. Their lands are being taken away by forgery or forcefully by the mainstream Bengali people. They are frequently attacked by Bengali miscreants. Their women and girls are often subjected to violence by the miscreants. As they are living extreme border areas, they are harassed by border security forces of both Bangladesh and India, they alleged.On behalf of Kapaeeng team, Mangal Kuamr Chakma and Hiran Mitra Chakma also spoke in the consultation.